Children's Nose Cleaner For Clear Breath
When you have a runny or stuffy nose, you know exactly what to do, right? But young babies, especially infants, haven't quite mastered the art of blowing their nose. When you suspect that your baby has a cold or a few boogies blocking their airflow and adding to congestion, what should you do?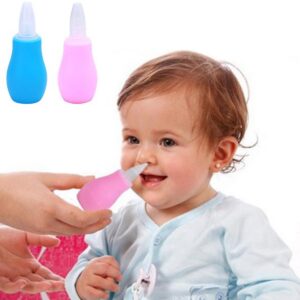 What Causes It?
Oftentimes, the same factors that cause stuffy noses in older children and adults cause stuffy and runny noses in babies. The most common causes of congestion in babies include:
Viruses like the common cold
Poor air quality
Dry air
Small nasal passages
When Should I Suction My Child's Nose or Mouth?

Any time your child is having difficulty breathing or is having noisy breathing due to excess mucus.
Before feeding or nursing if his/her nose is stuffy. Your child will eat better if his/her nose is cleared. Suctioning too soon after eating or drinking may cause vomiting.
If your child is having difficulty breathing after he/she vomits or "spits up." Try to limit suctioning to two to three times a day. Suctioning more often may cause the inside of the nose to dry out, get sore and bleed.
What Is The Use of Nose Cleaner For Babies?

The Nose Cleaner removes congestion from baby's nose with a safe, gentle suction motion. Specially designed with a soft nozzle for easy cleaning of mucus in baby's nostril whilst taking care not to damage the delicate mucus membranes.
How Do You Clean a Child's Nose?

Parents often use rubber bulb syringes to suck mucus out of their babies' noses. This can be used with or without saline spray. However, saline spray thins hardened mucus and makes it easier to remove. When possible, use the bulb syringe when your baby is already relaxed.
Are Baby Nose Cleaner Safe?

The removal of the mucus will safely and efficiently help your baby breathe better. Most pediatricians recommend the use of baby aspirators as needed by your child because the leading industry products on the market are safe, medically tested, and FDA approved.
Product Details of Children's Nose Cleaner For Clear Breath

The soft suction nozzle can protect the baby's delicate nostrils, let the baby feel more comfortable.
Suction is easy to control, simple to use
Easy to clean, the parts can be disassembled, convenient and sanitary.
Safe for babies and small children.
Applicable for nasal mucus.
Recommended by the Medici.
Material: Silicone
Color: Pink, Blue,
Bottle height: approx. 85 mm
Suction nozzle Length: Approx. 40 mm
Just Call Us-01310-448024