"Encouraging Export Growth: Positive Trends in International Trade"
Bangladesh is one of the fastest growing economies in the world. $420.52 billion (nominal; 2023 est.) $1.48 trillion (PPP; 2023 est.)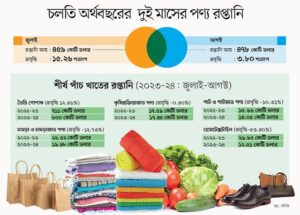 Expatriate income fell by 21.5 percent last month amid the dollar-crunch. However, export of goods, the major sector of dollar income, is still in a positive trend. However, the growth rate in exports has slowed down considerably. It is creating new worries about exports. Because, although most of the economic indicators are on the downward trend, these two indicators, expatriate and export income, have been in relief for so long.
In the recently concluded month of August, goods worth 4.78 billion dollars were exported, which is 51 thousand 863 billion rupees in local currency (at the price of 108.5 rupees per dollar). This export is 3.80 percent higher than in August last year. However, the growth was 36.18 percent against exports of 4.61 billion dollars in August last year. Accordingly, export growth has decreased by 32 percentage points in the last month.
Meanwhile, in the first two months (July-August) of the current fiscal year 2023-24, products worth 937 million 51 million dollars have been exported. This export is 9.12 percent more than the same period last year. However, at the end of the first month of the fiscal year, the growth was 15.26 percent. The Export Promotion Bureau (EPB) released this figure yesterday in an update on commodity exports on Monday.
Overall merchandise exports have been on a positive trend so far in the current fiscal, mainly due to growth in readymade garments exports. However, growth in apparel exports slowed last month compared to July. On the other hand, exports of leather and leather products, agro-processed products, jute and jute products, home textiles, frozen food, bicycles and other engineering products decreased in the last financial year. These sectors have not yet come out of that trend. However, exports of footwear, plastic products and handicrafts increased during this period, along with ready-made garments.
Bangladesh has been suffering from dollar-crisis for more than a year. Economists say, in such a situation, the decrease in expatriate income as well as the slowdown in the growth of product exports are worrying for the economy. As a result, economists believe that the pressure on foreign currency reserves will be longer.
In this regard, the executive director of South Asian Network on Economic Modeling (SANEM), a private research institute, told that the reserve has halved in the last one and a half years. Reserves are decreasing almost every month. It was increased by a month. If this continues, reserves may fall to 17-18 billion in December. We have always depended on expatriate income and product exports for macroeconomic stability. But expatriate income is often declining. On the other hand, the growth rate of product exports is also low. This is really ominous.
In the first two months of the current fiscal year, 85 percent of the total merchandise exports came from the readymade garment sector. Garments worth 799 million 85 million dollars have been exported. This export is 12.46 percent more than last year. Within the readymade garment sector, knitted garments worth $4.58 billion and woven garments worth $3.41 billion were exported. During this period, the growth in the export of knitwear has been 17 percent. The growth of oven clothing is 6.86 percent.
BGMEA, an organization of garment industry owners, analyzed the data of EPB and said that the export of ready-made garments was worth 395 million dollars in July last year. Then the growth was 14.43 percent. That growth slowed to 7.99 percent in August. 404 million dollars' worth of ready-made garments were exported.
Shahidullah Azim, vice-president of knitwear industry owners' association BGMEA, "The search for new orders has increased quite a bit compared to before. Still, there is little chance of improvement in garment export situation till next December. We hope that exports will increase from January.
Leather and leather products have been the largest exports after ready-made garments in the current financial year, at $19.48 million. This export is 12.73 percent less than the same period last year. In the 2022-23 financial year that ended last June, the sector's exports fell by a quarter of 2 percent. That means the export situation of leather and leather products has worsened in the first two months of this year. Meanwhile, the export of agricultural processed products in July-August was 17.44 million dollars. The export of this sector has decreased by 80 percent.
In the first two months of the current financial year, jute and jute products worth $140 million, home textiles worth $125.1 million, shoes worth $80 million, frozen food worth $60 million and plastic products worth $3.5 million have been exported. Out of this, the export of jute and jute products decreased by 10.31 percent, home textile by 53 percent and frozen food by 25 percent. And the export of shoes increased by 6 and a half percent and the export of plastic products increased by 5 and a half percent.
When asked what to do in the current situation, economist Salim Raihan said, as an immediate step, the price of the dollar should be brought closer to the market rate. It will increase the competitiveness of exporters and export purchase orders. On the other hand, the hundi will also decrease slightly. If the value of the dollar increases, the cost of imports will also increase. In that case, adjusting the tax structure will reduce the pressure a little.
On the other hand, minor problems in the export sector should be resolved quickly. This requires a political decision. Because, our everything is focused on the clothing sector, it is not a matter of seeing what other sectors have received or not. Apart from this, the construction of the economic zone should be completed quickly to increase exports.